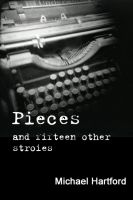 I'm dipping a toe into the self-publishing waters with a short story collection, "Pieces and fifteen other stories," available at Smashwords as an e-book, Lulu as a paperback and e-book, and on Amazon for the Kindle. It's priced to move on all platforms: $2 for the e-book, and $12.50 in the print-on-demand version.
Twelve of the sixteen stories have been published in small literary journals. Many of them are available online, for free; you can see the list here. I suppose that the free versions undercut my low, low price for the whole collection, but note that the collection has a couple of benefits: it contains several stories not available online, it packages all of the stories together into an easily-consumable and carefully-sequenced format, and the proceeds help to underwrite my literary efforts.
The four new stories aren't just "bottom-of-the-drawer" filler, either. One of them was accepted for publication at a small journal that went under before it was printed. Another was one of the manuscripts that made the cut in the Speakeasy contest to be sent to the final judge that year, Amy Bloom. The other two have been in heavy circulation to journals, sometimes coming back with helpful editorial comments, so they're well-polished pieces.
I chose Lulu.com because I've used it before for making calendars and picture books for family consumption: it's an easy process, and a quality product. I chose Smashwords because I've seen some good reviews, and they didn't push a lot of the vanity press "services": they provide a basic platform for distribution e-books, and that's all I need. And I chose Amazon, with some trepidation (as previously noted), because of their scale, and because the installed base of Kindle devices seems like a good market of avid readers. (Note that Smashwords makes a Kindle-compatible version available, too; if you're a Kindle user with some concerns about the Amazon stranglehold, take a look at the Smashwords version). There are many other e-book and POD resources out there; if you have a favorite, please make a case for it, and I'll take a look at it.
I'll publish updates on the adventure here; I don't expect to see the same sort of success that some writers have had in e-book publishing, but there may be a niche market for these stories worth tapping.